Blog
August 2019 Newsletter
July 26, 2019
If you've never read an ETCG newsletter before, you're a racist. Not really, but I'm sure that got your attention.
For the full newsletter, click here, or click the title image below. If you're only interested in one topic, that's OK, click the image in that topic, or click the "read more" link in that section and you'll be taken directly to that part of the newsletter on EricTheCarGuy.com.
If you're already reading this newsletter on EricTheCarGuy.com, you are not racist, and a good human being.
Past newsletters and the ETCG Blog can be found here.
Should I Continue To Write Newsletters?
Writing these newsletters takes up a lot of time. Usually an entire day. It's not just the writing, it's the gathering of links and images to make them dynamic and interesting. Then I set them up in the email program that sends them out to you. After that I send the finished product to my web developer to post on the website. Before all of that, my wife proof reads them for spelling errors. I make a lot of spelling errors.
Point is, time is a valuable commodity. Instead of writing newsletters, I could be editing or producing more videos. Or doing other things that would not be considered 'work'. I'm nervous about September when Borderlands 3 comes out. I might have a few late nights with that.
More to the point, should I continue to write these newsletters? They get sent out to everyone that signs up on the website, about 50K at the time of this writing, but only a few of you read them. I get it, newsletters aren't for everyone.
I guess what I'm trying to determine is if I'm spending my time wisely writing these things. As I've stated, they can take up a lot of time.
Feel free to shoot me an email and give me your thoughts on this topic. eric@EricTheCarGuy.com.
I've Fallen Down an Editing Hole
Ever since I got back from the Power Tour in June, I've been working on the edits of the #ETCGDadsTruck series. There is plenty of footage, enough to keep me busy for the next 2 months at least.
Thing is, I'm getting tired of it. Sitting in front of a computer all day can be monotonous as I'm sure many of you are aware. It's sad because I used to love editing. Now I hate it.
Funny, the song playing on my computer right now is "Sweet Jane", originally written and performed by the Velvet Underground. The version I'm listening to is the one by Cowboy Junkies. In the song there is a line, "everyone who's ever played a part, is gonna turn around and hate it". Seems fitting as I write this.
Please don't interpret my comments as anything more than an observation, and maybe a tiny rant. I'm not going to quit, or take a 'break', I'm just venting.
All work and no play makes Jack a dull boy. All work and no play makes Jack a dull boy. All work and no play makes Jack a dull boy. All work and no play makes Jack a dull boy. All work and no play makes Jack a dull boy. All work and no play makes Jack a dull boy. All work and no play makes Jack a dull boy. All work and no play makes Jack a dull boy. All work and no play makes Jack a dull boy……
I've tried to find editors in the past. 3 different ones didn't work out. Perhaps I need to rekindle that search so I can regain some sanity. It seems I love building stuff in my shop more than editing videos lately. Or, I just love doing the thing that I'm not doing at the moment while I'm doing something else.
If you understood that last sentence you're probably in MENSA.
The good news with all this editing is that for 3 weeks straight you got 2 ETCG videos a week. ?
#ETCGDadsTruck
Dads truck has pretty much been parked since me and dad got back from the Power Tour in June. I've used it to make a couple of trips to the hardware store, but that's about it. The reason, the oil leak. It's pretty substantial. The truck continues to live up to its nickname, "puddles". It's leaked since the day I got it.
I do plan to go in and figure out the source of the problem, which is partly the result of an over pressurized crankcase. Meaning, it's very likely I'll have to remove the engine and tear it down to find and fix the problem. I'm not very motivated to do that just yet.
I'd love to get the videos of the truck build just about complete before I pull the trigger on that. I'm not inclined to create more videos to edit just yet. See previous article.
The #FairmontProject
The #FairmontProject has pretty much sat right beside the truck since I got back from the Power Tour. I haven't driven it much. Not because there are any issues with it, but because during May/June I spent 2500 miles in it almost non stop. It's nice to have a break.
Still, on cool sunny mornings, I contemplate bringing it out of the shop for a spirited drive down one of my favorite roads. I should act on those impulses. It's a shame to let all that work just sit there. I built the car to drive after all. Maybe I'll take it to the track tonight.
I do have some things I want to do to the Fairmont. Remember the trunk button? In addition to that, I've partnered up with Aeromotive on a new fuel pump and fuel pump speed controller. I believe I've mentioned these in previous newsletters. Well, the pump and speed controller are here, I just need to install them.
I'm also hoping to install the smaller brake lines on the rear calipers of the Ford so I can fit the drag tires on it. That way I can take it to the track and put down a proper time.
I keep telling myself I'll get to this work as soon as I get a few more of these edits done…
I Sold the Mini!
I finally got my poop together and sold the Mini. A very nice man from Indiana bought it for his wife to drive. It's nice to know the car is going to a good home.
I sold it at a pretty big loss, $4000, but that's how it goes sometimes. I think the car made a great "Mini Series", and those videos will help a lot of people.
Yes, the new owner did watch the video I put out about the car saying it had 'herpes'. He bought it anyway.
It was a fun car to drive.
I've Been Teaching My Youngest Son How To Drive a Stick
About a month ago I put out a video talking about how my youngest son got his learners permit. He's been practicing and he's actually a pretty good driver.
As I mentioned, I haven't been driving the truck or the Fairmont lately. Instead, I've been driving my 2001 GSR. My son really likes the car and asked to drive it. So I took him out and showed him how.
It didn't take him long and he picked it up. He's hooked. He loves the car.
Almost daily he asks to go out and practice driving it. I'm happy to oblige. It's one of the best parts of my day. I love seeing the smile on his face when he nails a shift.
Premium Member News
Premium Members got 4 new videos last month, "Engine Bay and Interior Prep #ETCGDadsTruck (Part 1) (Exclusive Video)(Extended Version)", "Engine Bay and Interior Prep #ETCGDadsTruck (Part 2) (Exclusive Video) (Extended Video)", "Installing a New Radio & Speakers 1988-94 Chevy Truck #ETCGDadsTruck (Extended Version)(Exclusive Video)", and "How To Build & Install a Custom Gauge Cluster (Full/Extended Version)".
The Premium Member (Exclusive & Extended Video) library is growing every month! As of this writing there are over 200 (Exclusive Videos) for Premium Members! That's like having an entirely new ETCG channel to watch.
Premium Members get up to 4 exclusive videos per month. They also get additional perks on the website, and they help support the site with all of it's useful, free, repair content.
But wait! There's more! Premium Members now get a 5% discount on all orders from J&B Tool Sales!
Get your membership today! Details on the new Premium Memberships here.
In Closing
I'm very lucky to be able to do what I do. I know this, and I try to remind myself of that fact almost every day. I don't want to take it for granted.
There are days where it's harder to get motivated than others. I've had a few of those 'less motivated' days lately, but I keep trying. I keep trying to move forward and do better. I still have plenty to do before I give this up.
That said, let me know what you think about continuing the newsletters. I'd love to get your input on that.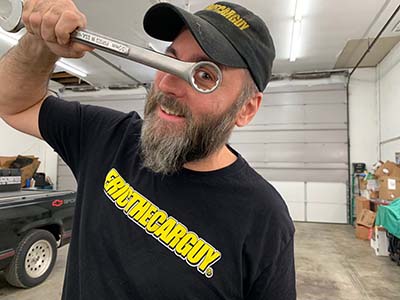 Latest videos below.
Be safe
Have fun
Stay Dirty
ETCG
Related Videos:
How To Replace GM Clamshell Engine Mounts:
How To Wire a Custom Instrument Cluster:
How To Build a Custom Instrument Cluster:
Why We Love Trucks:
It's the Questions You Ask:
""