Test
Best Impact Wrench
The 10 Best Impact Wrenches for Mechanics
Impact wrenches are your go-to when the normal wrench just won't work or you don't have an hour to spin a tire iron. I generally don't recommend using them as a catch-all solution for any nut you find in your day to day repairs. In most cases a good old fashioned hand/torque wrench works fine. But, sometimes you just need a powered one to get the job done.
An Impact wrench works by using a motor to generate twisting force in quick successive bursts that make it much easier to stuck-on nuts moving. The pressure from the motor also causes the nut to be pushed forward, which will either unstuck or break anything rusted on. Be aware of this if you are working on older vehicles.
You've got an incredible number of choices when it comes to impact wrenches. You also have the choice between corded, air powered, and cordless. Do some of your own research based on what you're trying to accomplish before picking anything on this list. I've included a variety of cordless, air powered, and corded. I've used mostly air powered. That being said, cordless options are much more convenient much of the time.
We've got a list of some of the most reliable you can find for use in the automotive industry for your everyday repairs:
10: NoCry 20V Cordless Impact Wrench Kit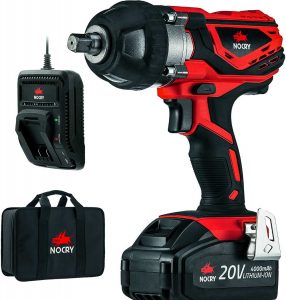 The Part Number: NIW-400NM-DE
Weight : 8.23 pounds
Overall Dimensions: 13.6 x 11 x 3.8 inches
Voltage: 20 volts
Close to the price of the Craftsman without the same reputation for quality. The NoCry comes in at last place on the list just because it is nothing special. It just makes it on and still remains a reasonable option to use. Is the NoCry 20V worth it? Doesn't seem like it.
9: CRAFTSMAN Impact Wrench, 1/2-Inch, 7.5-Amp (CMEF900)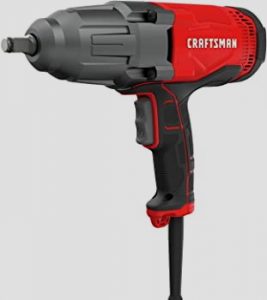 The Part Number: CMEF900
Weight: 13.62 pounds
Overall Dimensions: 13 x 11 x 5.2 inches
Model Number: CMEF900
Craftsman tends to have very solid quality tools, but this one comes in a bit too expensive for what it actually is. You can spend less and get more. Not to say this isn't a good impact wrench, but the price is pretty significant compared with other options on this list. In most cases you'd be better off going for other options at this price point.
8: Neiko 10878A 20 V Lithium-Ion Cordless Impact Wrench with Li-Ion Battery, 1/2-Inch Square Drive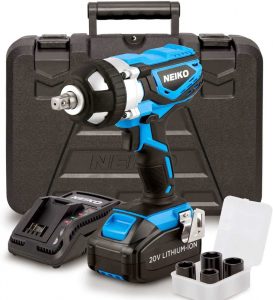 The Part Number: 10878A
Weight: 10.78 pounds
Overall Dimensions: 14.9 x 10.9 x 4.9 inches
Model Number: 10878A
Voltage: 20 volts
Not much to write home about with this option. It will probably work, it will probably do what you need it to do. It comes in right at the middle of the road when it comes to price. Not the worst option, not the best.
7: Campbell Hausfeld 1/2″ Impact Wrench, Air Impact Driver (TL140200AV), 550 FT/LBS Torque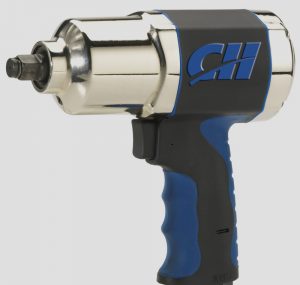 The Part Number: TL140200AV
Overall Dimensions: 9.85 x 3 x 9.06 inches
Model Number: TL140200AV
Torque: 550 lb/ft
Warranty: 1 Year Limited Warranty
The Hausfeld rounds out the cheaper portion of our list. Not likely the option i would go with, but it is still fine if you're having trouble finding the others.
6: ACDelco ANI405 Heavy Duty Twin Hammer 1/2″ Air Impact Wrench Pneumatic Tools
The Part Number: ANI405
Weight : 5.72 pounds
Overall Dimensions: 2.5 x 7 x 8 inches
Model Number: ANI405
Torque: 500 lb/ft
Air Flow Cap: 4 CFM
Capacity: 500 ft-lbs
Warranty: 1 Year Limited Warranty
ACDelco is in the same class as the Porter. It is cheaper than the rest of the list and that shows in the shop. But, if you have a very restrictive budget, this is a good option. The rubber grommet does make it hard to get the attachment off. It does make this tool inconvenient to use. This impact wrench is the newer and stronger version of the one I reviewed back in 2013. It has many of the same featured but has a lot more power and longevity due to how much better batteries are these days.
Another thing I liked about this one is that they make it easy to change out the brushes in the back of the tool. It's not a bad tool and it does what it says it will do. Decent value for a decent tool a 3.5/5.
5: Porter-Cable PCE211 7.5 Amp Electric Impact Wrench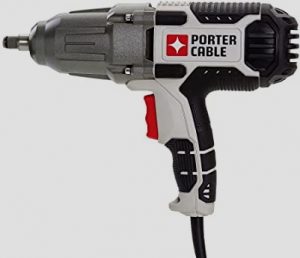 The Part Number: PCE211
Weight: 7.5 pounds
Overall Dimensions: 13 x 4 x 11 inches
Model Number: PCE211
Voltage: 120 volts
Torque: 450 lb/in
Warranty: 3 year limited warranty
The Porter is one of the cheapest impact wrench on this list. It is corded and has a lot less flexibility than the other options. If you are on a tight budget this is the option to go with. It's also a little clunky for an impact wrench. Many other option have a much smaller profile that makes them better for the tight squeezes that are common in automotive repair.
The Porter does have some good power going for it. If you need power and have a tight budget, this is a great option.
4: AIRCAT 1150 Killer Torque Air Impact Wrench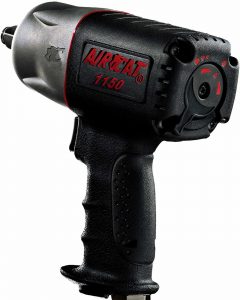 The Part Number: 1150
Weight: 4.62 pounds
Overall Dimensions: 7.5 x 2.8 x 7 inches
Model Number: 1150
Torque: 1295 lb/ft
Noise: 86 dB
Rotation Speed: 9000 RPM
Warranty: 2 year parts and labor
The AIRCAT option is a very good tool. They don't have the reputation of the top three but they are worth looking at. The 1150 manages to balance great power with reasonable sound.
If you are working out of a garage or in a neighborhood this is probably a good choice.
3: DEWALT DCF880HM2 20-Volt Cordless Impact Wrench
The Part Number: DCF880HM2
Weight : 6.89 pounds
Overall Dimensions: 15.75 x 10.2 x 4.69 inches
Model Number: DCF880HM2
Voltage: 20 volts
Warranty: 3yr limited manufacturer warranty
This would have been the DEWALT DC823KA 18V Cordless XRP 3/8″ Impact. That tool has sadly been discontinued.
Has great visibility from the LEDs, all around a solid tool. This one is also a bit more expensive than others on the list. It will get the job done with no issue. If you watched the video above you'll notice I mention that the 12 volt version didn't perform well. This is part of why I say over and over that you need the right tool for the job, someone may have been able to use that 12 volt. But, it wasn't good enough for what we were doing.
Dewalt is well known for having great products, even if they are slightly pricier than average.
2: Milwaukee 2767-20 M18 Fuel High Torque 1/2-Inch Impact Wrench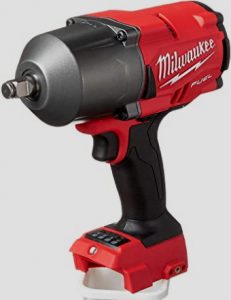 The Part Number: 2767-20
Weight of the Wrench: 5.91 pounds
Overall Dimensions: 3.46 x 10.23 x 9.05 inches
Model Number: 2767-20
Torque: 750 lb/in
The Milwaukee impact wrench is so high just because of how reliable it is. This thing can be dropped, run over, and smacked around. It will run perfectly fine after, but I wouldn't test all that.
It gets the job done, comes at a good price, and is an all around solid tool.
1: INGERSOLL RAND 2115QTIMAX 3/8″
Specifications
Max Torque (Reverse) 300 ft-lb (407 Nm)
Forward Torque Range 25 – 230 ft-lb (34 – 312 Nm)
Blows Per Minute 1,500
Maximum Free Speed 15,000 rpm
Sound Pressure (Free Speed) 89.7 dBA
Net Weight: 2-1/2 pounds
Overall Length: 5.95″ (151 mm)
Air Consumption, Average: 4 cfm (113 l/min)
load 17 cfm: (481 l/min)
Air Inlet: 1/4″ NPTF
Minimum Hose Size: 3/8″ (10 mm)
The Ingersoll Rand is a very solid pick. Very reliable piece of machinery that will stand up to the dirty life in the shop. It's a lighter option to the the Milwaukee spot, but is still able to handle almost anything you can expect to see.
It is a bit more expensive than other options. The price is reflected in the quality though and you can rely on it to get the job done in a pinch. I think it's also fair to say that number one and number two on this list are very close in terms of value and capabilities. Don't take these positions as gospel.
You can see in this video that I used that Ingersoll Rand forever and she's still kicking.
Conclusions
Pick a wrench that does what you need done. If you're working in a Nascar race your needs are going to be a lot different than a brand new mechanic repairing a 1995 Honda Accord. Take the time to figure out the specs you will need most often for your repairs and get the product that will help you the most.
If you've got suggestions or disagree with anything on this list, let me know. I would love to hear if you've had different experiences and can attest to the quality of one of the lesser known options.