Brake Fluid Leaks and ABS
ABS, or Anti-lock Brake System, can create some challenges when it comes to servicing some brake systems. It's also another potential leak source. If you have a brake fluid leak, don't forget to inspect all the ABS components. If you find a leak in the ABS, you might consider taking your vehicle to a professional. Some ABS systems harbor high-pressure brake fluid to operate. Open the wrong line and you could get more than a face full of high-pressure brake fluid. If you decide to do the work yourself, I strongly suggest you get a service manual for your vehicle that outlines the procedures for the service of your ABS system. This will help keep you out of trouble.
One last thing on ABS systems. Some systems require that you use a scan tool to properly bleed the air out of the brake system. If this is the case, you might need to bring your vehicle to someone with one of these tools to have the brakes bled out. I know this is a pain, but if you're having issues bleeding the air out of your brake system, you might check to see if you have this type of system. You might be wise to check on this before you even begin the work on your brake system to avoid getting stuck later.
Power Steering Fluid Leaks
Power steering fluid also comes in a variety of colors, which can make identifying power steering fluid leaks difficult. As with the other leaks, you need to put eyes on the source to know for sure. One option is to place a piece of clean cardboard under your vehicle when you park it overnight. This can give you a good indication of where your most prolific leaks are. There are really only four places you'll find a power steering fluid leak: at the pump, the lines, an external cooler, or the actuator. The actuator can be a steering box or power steering rack. All three are common. With the power steering pump, leaks are often caused by over-tightening the drive belt. If you're installing a drive belt on the power steering pump, be sure not to go too tight to avoid a leak on the front seal. As for the lines, a good inspection should prove those out. Be especially vigilant around the high-pressure hose where the rubber goes into the metal joint; I often find leaks in this area. If you have a power steering cooler, it's usually located in the front of the vehicle near the radiator. Corrosion is a factor here, OR you might find leaks at the line connections going to it. So if you see a leak at the front of the vehicle, don't rule out the power steering system as one of the possible suspects.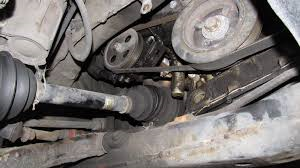 As for the power steering rack, pull back the dust boots and see if fluid comes out. If it does, the internal seals have failed and the rack should be replaced. People often ask me if they can recondition their power steering racks. The answer is yes, but it's often unsuccessful. Therefore, I recommend replacement over reconditioning. Power steering rack replacement ranges from "easy as pie" to "shoot yourself in the head." You might want to consult your service manual for the procedure on your vehicle before you dive in. In addition, power steering rack replacement often warrants an alignment when you're finished with the work, so be prepared for that as well.
No matter what, when you're finished with a power steering repair, you're probably going to need to purge the system of air before it begins to work properly. By that I mean before it stops making noise. This procedure varies from model to model, so once again, consult your service manual for the procedure for your vehicle.
Liquid Fuel Leaks
Fuel leak types come in the form of liquid leaks and vapor leaks. Let's start with liquid fuel leaks. Liquid fuel leaks are often easy to spot and easy to identify. Gasoline, or petrol, has a distinctive odor. In addition, it evaporates very quickly—so quickly in fact that you can see the light distort above a puddle of fuel as the vapors disperse into the atmosphere. For this reason gasoline is VERY dangerous. In truth, it's not the liquid fuel that burns; it's the vapors. You can actually put out a fire with liquid gasoline as long as you put it on fast enough. I don't recommend you try it, however.
That said, you often find fuel leaks near the fuel tank. Sometimes the tank rusts out and begins to leak. In the case of a plastic fuel tank, it can get damaged or crack. In the case of a rusty tank, I've heard you can rub a bar of soap on the hole to temporarily seal it. I've never tried this, but I can't see the harm. You can have fuel tanks repaired if you don't have the money to replace them. Look up the specialty shops in your area.
Fuel tanks are not the only place you might find fuel leaks. It can also leak from the fuel lines and fuel filter going to the engine, as well as from the engine itself. I've even seen fuel injectors leak right onto the intake manifold. Kinda scary since the engine gets hot enough to ignite such a mixture. For this reason, it's a top priority to repair a fuel leak if you find one. Any heat source can ignite the fuel, which can have catastrophic results.