This topic contains 9 replies, has 7 voices, and was last updated by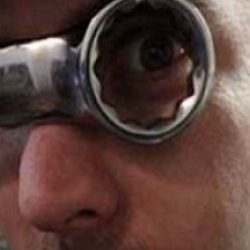 EricTheCarGuy 8 years, 7 months ago.
Topic

I got a 98 Ford Taurus and its making a creaking noise, kind of like a door opening, when I turn the wheel, more heard in a parked position or driving real slow, not to much if I'm driving at a normal speed. I took the wheel of with the front left side of the car elevated turned the wheel and did hear much, guess need the weight of the car to hear it. Does anyone know what this issue could be or what I can do to find the problem?

Update: OK seems like the creaking noise is coming from the tie rod end but there some noise along the tie rod also not to sure which one. The tie rod end rubber boot is cut half way around it and I stuck a screw driver in it and it had no grease and pulled some gunk out the uncut side of the boot that looking like dried up gum, so most likely its the tie rod end, the noise is in the wheel well so there no problem with the rack and pinion but would like to get some opinions about this update and if I do have a bad tie rod (not tie rod end) how often do they go bad and what would happen if they do or what would I hear, how does the tie rod connect in the rubber rippled boot because I can see the tie rod screws into the tie rod end?

Topic
Viewing 9 replies - 1 through 9 (of 9 total)
Viewing 9 replies - 1 through 9 (of 9 total)
You must be logged in to reply to this topic.